July was way too short. I've already gone back to work (teaching high school math). So now that I'm tied down I'll have more to show. I literally did not sew 1 stitch this summer! Enough excuses, let's get to Stash Match!
Just a reminder, here's how it works:
Each month I'll send out an inspiration photo and have 6 bloggers send me a picture of fabrics pulled from their stash based on that photo. Then I'll have you all try to match the blogger to their fabric stack. I'll compile everyone who got it correct and randomly select a winner from them! I know it was really hard last month, so not only will the bloggers give hints, but I will too!
This is not a contest to see which blogger has the best stash or who interpreted the theme most correctly by your standards or mine. They get the inspiration picture and can do with it what they want. You just have to match the fabric stack to the person. Let's keep it fun and positive!
The rules given to the bloggers:
1) Stack must have at least 10 fabrics, no more than 20
2) Each piece must be at least a Fat Eighth (no tiny scraps!)
3) No buying new fabric specifically for this
Since I'm going back to school I had Fall and books on my mind. I've always loved this print and this definitely makes me think of school books all stacked up. :)
From Anna Maria Horner's reprint collection Hand Drawn Garden


Click on their photos to be taken to blogs. I hear there might be hints (in addition to those that I'm giving you below!). ;)



Hints
Adrianne's stash looks the most like Fall to me. Warm and cozy.
Darcy has more AMH than anyone I know (and that's saying something!). Of course she only pulled out of print AMH prints for her stack - all 14 of them!
Erin went with the most muted and soothing palette. Probably to make school more comfortable.
June included some of my favorite Denyse Schmidt prints and some cute whimsical ones, like mushrooms and ...
Lori has a well rounded stash - a few pieces of each color with great blenders and a few sun prints.
Sara also pulled some AMH from her stash. And some Melody Miller. And some ghosts and deer! She definitely has a whimsical stash.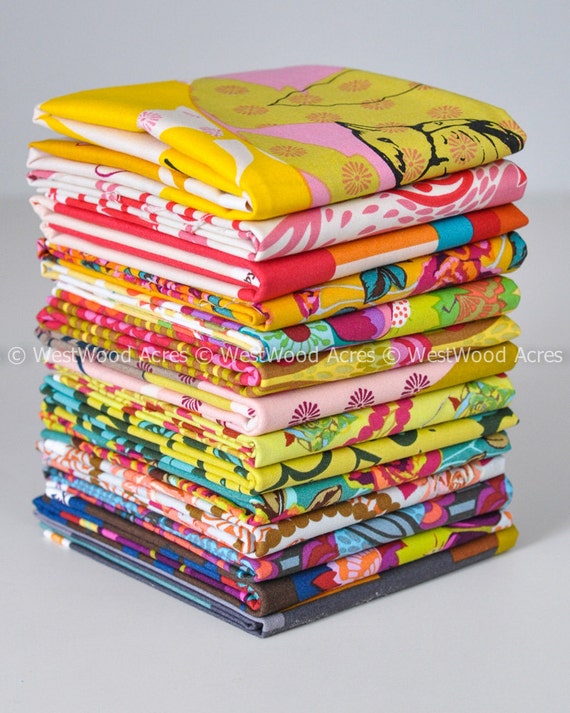 A Fat Eight bundle of Hand Drawn Garden by AMH. The bundle will be shipped directly from Westwood Acres.
If you want to participate as a blogger one month, just send me an email and I'll get you scheduled!

To enter, fill out the form below by Wednesday, August 14, 2013 midnight EST. I will announce the winner and correct answers on Friday, August 16 . Good luck!
**Please do not post your guesses in the comments**